Fidelity, Bravery and... Integrity
by Roger Slipnstop for FNO February 2018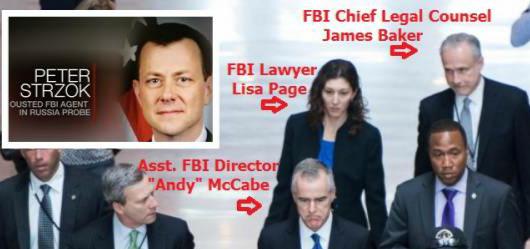 Through the years the Federal Bureau of Investigation has stood for Fidelity, Bravery and Integrity, however, recently the FBI has come into some disrepute. How did this happen to the organization that was built over decades beginning in 1924 when President Calvin Coolidge appointed a young man named J. Edgar Hoover to direct the fledgling Bureau? The corruption began under the leadership of President Barrack Obama. For eight years the Obama regime quietly moved handpicked underlings into top positions within the Department of Justice and the FBI with an objective in mind. Barrack Obama was determined to transform America. Let's recall… five days before the Presidential election of 2008 (toward the end of October) candidate Obama made the following statement… "We are five days away from fundamentally transforming the United States of America."

We couldn't know at the time, but… Obama meant every word.

What was the transformation Obama had in mind? He intended to transform America into a country controlled by a Global Elite minority, removing concerns for Middle Class voters for decades to come. Under the Obama Administration there was a concerted attempt to subvert the purposes of the Justice Department and the Federal Bureau of Investigation and turn those organs of government power into a left-wing political police force… this attempt appears to have been successful to an extent. Evidence suggests, the Obama's were able to place their own top-level facilitators at the top tiers within the FBI and Justice Departments… but, they were unable to subvert the lower levels of the FBI and failed to turn a number of Offices within DOJ.

The Intelligence Committee of the House of Representatives recently approved release of a memo---detailing abuses within FBI & DOJ regarding alleged false statements used to obtain FISA (Foreign Intelligence Surveillance Act) warrants from FISC (Foreign Intelligence Surveillance Courts) which were used to listen in on Trump Tower telephone conversations---to all House members. The memo details the Intelligence Committee's findings concerning controversies involving Americans within the United States caught up in telephone conversations with foreigner's overseas and unlawful FBI surveillance of members of the Trump campaign. By law the Intelligence Committee of Congress has oversight over the Federal Bureau of Investigation and over the United States Justice Department. Eventually, the White House approved release of the memo after they had declassified the document. The memo has been released to the public.

So… what do we know now that we did not know before?

Andrew George McCabe Sr. (Deputy Director of the FBI under James Brien Comey Jr) stated to a Congressional Committee under oath that without the Trump Dossier (a document compiled by a disgraced British Foreign Service Intelligence Officer named Christopher David Steele Sr.) no FISA warrants to spy on Americans would have been issued. In other word's warrants used to wiretap United States citizens within the country were allegedly obtained by using false information to mislead the courts.

A Brit named Christopher David Steele SR. is a foreign Intelligence operative who has close ties to Russian Oligarchs who themselves have close ties to the present Russian Spy Agencies (formerly the KGB) and to Vladimir Putin. The Steele dossier could never have been created and promoted without approval by Vladimir Putin.

The Christopher David Steele Sr. dossier was a work product of Fusion GPS a private concern that works exclusively for Radical Democrats. Steele receive money from Fusion GPS and the Hillary Clinton campaign to compile the shocking fake dossier on Donald Trump.

An obvious conclusion could be drawn from the GOP memo that highly placed individuals working for the Obama Administration were involved in criminal activity in their attempt to keep Donald Trump from being elected and after the election to keep the Trump Administration from discovering their crimes and the crimes committed by the Obama administration and Hillary Clinton.

Beginning in January of 2009---within the FBI---at the highest levels, Barrack Obama's agents began to corrupt that organization in order to promote the objectives of the Global Ruling Elite. Two of the agents who were moved into the higher levels were Peter P. Strzok Sr. and Lisa Page. Strzok was and is a high-level FBI Agent and Lisa Page was and is an attorney who works for the Bureau… Lisa Page is Strzok's goomah.

Evidently Agent Strzok and Lawyer Page of the FBI couldn't stay away from each other even though at least one of them was already married. Using official FBI electronic devices, they texted each other many times a day and hatched plots involving the two of them and others within high echelons in FBI and Justice in order to cover up crimes committed by Hillary Clinton and create provable crimes that could be laid to Donald Trump and his campaign. The activities of these two bring to mind the corruption in the FBI Office in Massachusetts during the hay-day of Whitey Bulger and his FBI cronies… Agent John Connelly and Agent John Morris. The contents of their texts make no bones about it… they were working every day to bring down Trump who they hated with a rigid religiosity reminiscent of the staunchest Bolshevik in 1918's Russia. It becomes evident upon reading these texts that the real objective here was to make sure that Barrack Obama enjoyed a third term which by law he could not obtain legally, therefore, he had to get his third term much like his pal, the Russian Dictator Vladimir Putin had… by having a proxy run in his place. So, along comes Hillary Clinton… Obama's stooge! It becomes obvious that Obama thought he had control much like Putin in Russia and could ride out Clinton's term in office by using his worshippers within the FBI and the Justice Departments to keep her under control. Never has the term…. DARK STATE… seemed more appropriate.

Within the electronic texts exchanged between Strzok and his goomah Page are some notable quotes… in one, Peter Stzork describes a trip to a local Walmart where he can "smell Trump voters". Stzrok and Page exchange texts about having an Insurance policy against the improbable case that Donald Trump gets elected. They write regularly within their texts to Strzok's duty to fill in Barrack Obama on everything.

To date a number of high placed officials have been implicated in Obama's DARK STATE:

Within the FBI the names, Peter P. Strzok Sr., Lisa Page, James Brien Comey Jr. and Andrew George MaCabe Sr., appear with regularity.

Within the Dept. of Justice: Rod J. Rosenstein I, Associates of Eric Holder and Associates of Loretta Lynch are named.

There are many other high-ranking members of the Obama Administration who have burrowed within the DARK STATE but those are just a few of the names that may be involved.

NOTE: The FBI is still an effective law enforcement organization even with the attempts to corrupt that venerable organization. Barrack Obama and his cronies Nancy Pelosi and Chuck Schumer (Democrat leaders of the Congress) managed to corrupt the VERY TOP TIERS of the FBI (the Director and his immediate underlings) but there are still thousands of FBI employees who are out there every day bringing hardened criminals to justice. There are 37, 000 employees working for the Federal Bureau of investigation and most of them are as respectable and upright as was their mentor, J. Edgar Hoover---of whom during his lifetime there was never even a breath of scandal---the first and greatest FBI Director.

Update: On August 13, 2018, Peter Paul Stzozk II, Corrupt FBI Agent was fired and is no longer employed by the Government of the United States in any function. He was fired because of his corruption. Strzok led the disgraceful soft ball investigation into Hillary Clinton's handling of classified information while she was Secretary of State under Barrack Obama. Strzok is also the FBI Agent in Charge who, after whitewashing Hillary Clinton's crimes, began a phony investigation into President Donald J. Trump, hoping to undo the results of the 2016 election.

In 2009, then President, Barrack Hussein Obama II, appointed James Brien Comey Jr. as Director of the FBI for his administration. Soon enough, Comey elevated Peter Paul Strzok II and other wannabe Global Elites, all fervent worshipers of Barrack Hussein Obama II, into the highest levels of the Federal Bureau of Investigation. Upon taking office in 2017, however, President Donald J. Trump, beginning the process of draining the swamp, fired Barrack Hussein Obama II's favorite FBI Director. James Brien Comey Jr., Peter Paul Strzok II and their cronies (at high levels) represent the lowest point in the history of the FBI, including the discovery of a Russian Spy (the traitor Robert Philip Hanssen Sr.) within the ranks of that organization.

The motto of FNO is… Good Government cannot survive shrouded in DARKNESS.
---
---
A TALE OF TWO WOMEN
SOMEONE ONCE SAID: TO KNOW THE TRUTH... FOLLOW THE MONEY.
---
Staff Report for FNO---December, 2012

Before the rape, Juanita Hickey was young, vivacious and successful, she had the world on a string and was sitting on a rainbow. Then Bubba came into her life; and the Hounds of Hell were unleashed.

Once upon a time there were two women: One was a registered nurse and entrepreneur who ran a thriving business in Arkansas, she was vibrant and beautiful. The other woman was a college graduate with a law degree who never quite lived up to early promise, instead, she was merely an insignificant instructor at a small college.

Juanita Broaddrick came from a working class family and by the time she reached adulthood had matured into a beautiful young woman. Juanita enrolled in college, obtaining a degree in nursing, and like many of her peers was driven to help people. After graduation, Juanita became a registered nurse and eventually married a man named Hickey. In 1978, Juanita Hickey RN was 35 year old with a burden for delivering healthcare to seniors and children. Her passion led the young idealist to risk everything in order to give birth to an idea… a nursing home, which became so successful that the original---meant for seniors---eventually became two residential facilities: one for the elderly; and one for severely handicapped children. By any yardstick, Juanita was successful. Then, the beautiful registered nurse had the misfortune to meet William Jefferson Clinton. Bill Clinton (Bubba as he was known in Arkansas) was a successful Democratic politician at the time and Juanita was an enthusiastic supporter. She believed Democrats cared about common people as she did. Bill Clinton was her hero. However, like so many other innocent young women who came into contact with Clinton she was about to be disillusioned. The brutish Clinton got her alone in a hotel room and raped her. Because she was a loyal Democrat, the inexperienced young woman anguished over causing her party to look bad, she still believed quite naively that Democrats cared about people and woman's rights. She kept her mouth shut and didn't report the rape. However, in the 1990's details about Bill Clinton's serial abuse of women leaked out and one of the women he had viciously abused sued him. The truth about the rape came out. Juanita was subpoenaed and forced to give a legal disposition in the Paula Jones' sexual harassment suit against the then sitting President. As a result of her testimony the hounds of hell were unleashed… the Democrats' Smear Machine set out to destroy Juanita.

At the time of her disposition Juanita was divorced from her first husband and had married a man named David Broaddrick. After giving her disposition, like so many other rape victims Juanita felt liberated and continued to give interviews and speak out even though her husband was against her candor. Juanita and David however were able to return to their quiet life in rural Arkansas for a while, but eventually grew apart and divorced. Juanita believes the unwanted publicity that intruded upon their private lives gradually destroyed their marriage. Juanita Broaddrick still owns one of the two nursing-home facilities and some acreage while David owns the other.

Broaddrick was a very successful entrepreneur when Bill Clinton raped her and now, twenty-one years later, she is a woman who struggles daily to make ends meet. She is not worth several million dollars. She is simply a caring professional, a professional nurse, a woman who owns her own small business. Juanita Broaddrick gets nothing from right wing political interests. She is not the darling of any media. She has never received an award or spoken before a large college audience for a five-figure fee.

Before Clarence Thomas had the misfortune to come into contact with her, Anita Hill was making thirty thousand dollars per year as an unknown Instructor at a small southern college. Destined for obscurity, Hill decided to shake that money tree and bring about a miraculous change in her fortunes.


Anita Hill had a degree in law from a good college when she went to work for Clarence Thomas who had an important position within the first Bush Administration. She had hoped to use Thomas to further her career, but as things worked out she was employed by Thomas for less than two years, after which she went to Oral Roberts University where she was an undistinguished assistant professor. When Hill realized she was not going to advance at Oral Roberts (Oral Roberts University is not a left wing university), she left and accepted a low level job as an instructor at the University of Oklahoma. Did she have a grudge against Clarence Thomas, because in her mind, he had not recognized her potential and helped further her career? Who knows what chaotic thoughts churn about within the recesses of that turbulent mind?

What we do know is: when Clarence Thomas was nominated to the Supreme Court the totally undistinguished, not very successful, Anita Hill saw her chance. She probably realized her career was on a fast track to nowhere and she was destined for low-level jobs for the rest of her life, so, Anita Hill decided to shake that money tree. She went before the Senate and testified Clarence Thomas had made rude sexual advances towards her years before. The hounds of hell were unleashed. The Progressive Smear Machine geared up and attempted to destroy Clarence Thomas. The left wing propaganda apparatus pushed their Pundits forward to offer the suggestion that Anita Hill had nothing to gain by testifying against Thomas, by revealing that he had made rude sexual advances toward her. Well, time would tell whether or not she had anything to gain by making those never substantiated charges. Clarence Thomas, however, was elevated to the court in spite of Anita Hill and in the decades since has become one of the most distinguished jurists in the history of the country. There has never been even a whisper of scandal surrounding the eminent Justice… Supreme Court Justice, Clarence Thomas.

But what about Anita Hill, did she slide back into obscurity? Well, not quite. After testifying during the Clarence Thomas' Senate hearings, Hill accepted a position as a visiting scholar at the Institute for the Study of Social Change at the far left-wing University of California at Berkeley. Then, soon thereafter, she joined the faculty of Brandeis University (one of the most liberal colleges in the country) where she has since been promoted to higher paying positions. In 2011, Hill accepted a lucrative position with a law firm whose senior partners have ties to the Democrats stretching back decades. Wow! Things really looked up for Anita after those terrible hearings.

Over the years, Hill has provided commentary on gender and race issues on national television programs, including 60 Minutes, Face the Nation and Meet the Press. She is a darling of left wing media. She has been a speaker on the topic of commercial law as well as race and women's rights at various left wing venues, earning five figure fees. She is also the co-author of articles that have been published in The New York Times and Newsweek and has co-contributed to many left wing publications in the areas of bankruptcy and civil rights. It's almost as if she picked six in the state lottery. And still the booty rolls in. In recent years Hill published her ghost written autobiography, Speaking Truth To Power, in which she chronicled her role in the Clarence Thomas confirmation controversy and wrote that creating a better society had been a motivating force in her life. In 2011, Hill's second ghost written book, Reimagining Equality: Stories of Gender, Race, and Finding Home was published. Gee, what a smarty pants she became all of a sudden.

At present Anita Hill is worth millions and lives in utter luxury surrounded by adoring, hero-worshipping "Occupy Wall Street" types. But, prior to her role in the Clarence Thomas Supreme Court Hearings, Anita Hill had been nothing; she was earning less than thirty thousand dollars per year as an obscure college instructor at a minor college. Oh, What a difference a Hearing makes!

So this, then, is our little tale of two women. Remember, if you want to know what's really going on…. Follow the Money. And the next time a gaggle of Democrats explains "But, but… she has nothing to gain." Remember this little tale of two women.
---
---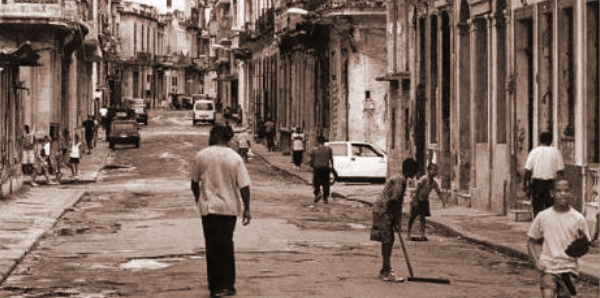 Communist Cuba where all (Black, White, Brown) share equally in the misery… share equally in the sub-standard health care, in the sub-standard housing, in the sub-standard rations. Except, of course, the Ruling Class who may have millions/billions in offshore accounts.
---
---
Liberal vs. Progressive

By Handy Randy for FNO

January 2017

Liberal's believe all human behavior is dictated by a person's position on the socio-economic ladder… Which is called, Material Determinism. The distribution of Material determines everything. If you are poor, you are poor because of the powers that be have rigged the system. And, kind-hearted Liberals are working to address the situation on behalf of poor minorities. Liberals believe when the proper material distribution system is applied to society, the evils of poverty and inequality will be addressed.

But… Liberal has fallen into disrepute! They have run the cities for decades, but the urban poor in those cities remain destitute. So, Liberals decided to change back to their original early century designation, Progressives. Believing that identifying as Progressives would erase the foul taste in the American Public's mouth left there by the word Liberal.

This is the first article of the Materialists. Let me explain… Recently the term Global Warming has become a joke. And because the concept is a pillar of future Liberal control over Material, Progressives are beginning to panic. The "solution" to Global Warming, when applied to society, will necessarily enable Liberals to control every aspect of the social order, and therefore they will be able to distribute Material at will. Taking from those that have… and redistributing to those they chose to reward, a much more Progressive way to develop. So they changed the designation to Climate Change, a term meant to incorporate both planet warming and planet cooling, each circumstance coming under the all-inclusive umbrella of Climate Change.

Right now the major propaganda organs of the Progressive movement are trumpeting their sleight of hand by repeating the term, Climate Change, whenever they can in order to familiarize the masses with the term. MSNBC, CBS, ABC, CNN and the NY Times, all the usual promoters of the Democrat Party, have slid into the new "scientific" jargon with relative ease, repeating the phrase over and over on their nightly broadcasts until the old science involving Global Warming is erased from the collective consciousness and the newer, snappier, designation is ensconced. The science is settled!

It's like a roulette wheel, previously Progressives were betting on red (Global Warming). Now they're betting on red and black at the same time (Climate Change). If the Arctic Ice melts… it's due to Climate Change, if the Arctic Ice expands… it's due to Climate Change. If it snows in Boston… it's due to climate Change. If there's a drought in California… its due to climate Change.

Those doggone Liberals, ahh, err… I, I, mean, Progressives... are so darn clever?
---
---